And my dad has been watching it with me….
He's NEVER liked my Korean shows…EVER!!
But one day I was watching it while babysitting my siblings (after they were in bed of course) and after my parents came home I was still watching it and my dad JUST SAT DOWN AND WATCHED IT!!
My reaction:
But after a bit he said he thought it was interesting and even laughed at some of SuJu's jokes. WHAT IS THIS?!?!
So we watched like 3 episodes together, but I knew the…um…."kissing" episode was coming up.
So I planned it out so that I would watch it before my dad came home and he would never see it!
So it was all going according to plan…
Until he came home early….
So I paused the video…(which just made it more suspicious.)
And my dad was all:
"Oh it's that show! what are they doing on this one?"
And I was like:
"Finding ways to breath under water the longest."
Then he was all:
"Oh cool lets watch!"
Inside my mind:
*ABORT MISSION!! ABORT MISSION!!! NO NO NO NONONONONONO!!!*
AESRTYFGAYUJGABHIB BUT I COULDN'T NOT HIT PLAY!! HE WOULD HAVE BEEN SUSPICIOUS AND IT WOULD HAVE ENDED IN AN ARGUMENT!!
But let me tell you there is hardly anything more awkward than watching a bunch of guys (even if they are straight) making out under water WITH YOUR DAD NEXT TO YOU!!
So eventually the inevitable happened and this popped up on screen…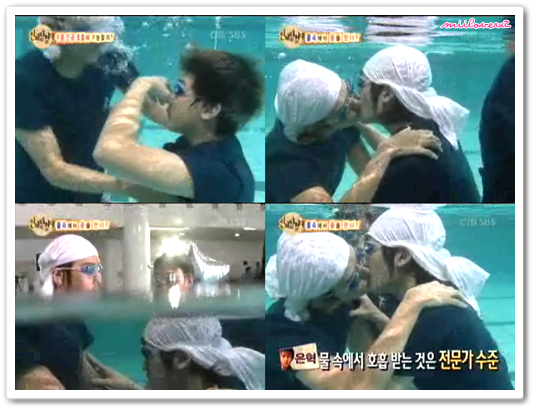 My dad was just like:
And I'm all:
But in my mind I was like:
"GUYS PLEASE NO!!! FOR THE LOVE OF ALL THAT IS HOLY NO!!! MY DAD DOESN'T UNDERSTAND IT WHEN STRAIGHT GUYS HUG LET ALONE THIS!! PLEASE STOP!!!"
Then in the end he's all:
"This isn't your favorite group right?"
Me:
"………..yes."
Him:
"Oh…"
SO FJHNOANLJKJNING AWKWARD!!!!!
95 notes
tagged as: kpop gifs. super junior. ehb. suju. exploration of the human body. awkward. kpop.